Timberland MarkMakers  Marie Claire x Timberland x Renee Snelson
Meet Renée Snelson, street artist and talented designer, also known as XO,RS, creating her "shoefiti". This fall, Renée shares her favorite Timberland® footwear for the season to carry her along her "modern trail," and creates shoefiti masterpieces inspired by the collection.
Meet our Markmaker: Shoefiti Designer, Renee Snelson
As part of our partnership with Marie Claire, street artist Renee Snelson gives us a peek into bringing Timberland footwear to life.
When it comes to style, shoes can make a statement, but what about art? Street artist and designer Renee Snelson, also known as XORS, gives new life to footwear through powerful murals splashing the streets of New York City. Creating a category of her own, Renee's "shoefiti" mixes fashion, art, and female empowerment by taking her sketches and turning them into large, eye-catching masterpieces.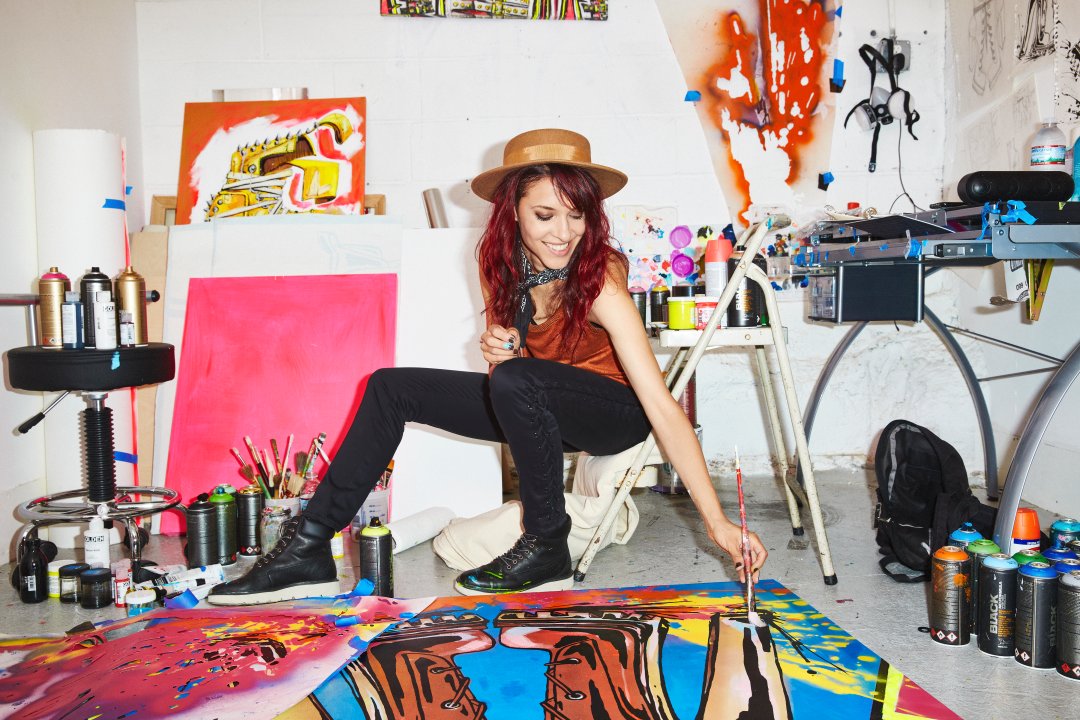 As both a shoe designer and artist, Renee knows footwear and the importance of standout style and movement whether it's on your feet or through her visual creations. "For me, footwear is a personal statement and shoes are a bigger expression of who you are and where you're headed," she explains. "As a shoe designer, I appreciate good quality, comfort, and versatility, but I don't want to sacrifice style. Timberland provides all of those elements," she continues.
This fall, we partnered with Renee Snelson and Marie Claire to explore Timberland styles through Renee's signature shoefiti street art style. From huge city murals to in-store events, keep an eye out for big things to come (don't worry, her work is hard to miss).
"When Timberland and Marie Claire asked me to create artwork inspired by Timberland's footwear, I immediately saw the style Glancy, as a badass! Heeled bootie worn by a busy woman who doesn't let anything get in the way of their sense of style or self-confidence. Not even themselves. So I painted this pair, head on and unafraid. Ready to rock that #moderntrail."
We took a break from our shoot with Marie Claire to talk with Renee about her inspiration, style and what we can expect next.
How did you make the transition from shoe designer to street artist?
As a shoe designer, my designs cater to the needs of the brand and customer that I'm designing for. The industry can be intense, and I found myself needing to release creativity in another form to connect with the artist within me.
I decided to create a sketch blog. The idea was to illustrate shoes every day with the intention to practice the art of play, free my mind and push creative boundaries. It allowed me to sketch new possibilities that would have been unimaginable if I only sketched for my job. The illustrations became expressions of how I felt at the moment, capturing my spirit and thoughts on fashion, color, trend, and art.
As I got further into my career, the competition and demands intensified, and I slowly stopped illustrating shoes for myself – I was too exhausted, on every level. But I was inspired by street art and the idea of repeating the same image, so I began to wheatpaste shoes onto the streets of NYC. This was a way to share my art without having to illustrate new ideas each day. I did this for a few years and through this process, I re-energized myself to create art again.
I got a studio in Brooklyn and started to illustrate shoes again, but larger in scale. I began doing large-scale stencil work on the streets. My shoefiti expresses my feelings and embraces fashion, while also commenting on the competitiveness of the industry and all of my experiences. I have such a love-hate relationship with fashion. These shoes are gigantic contradictions – fighting to be modern, to be fashionable, to stand out and survive the journey of trying to make it in this crazy upside-down world.
Living as a street artist in New York, your surroundings are your canvas. Can you talk about your process from concept to creation?
I am in love with the city streets and so fortunate to be in an environment where the possibilities can be endless. Getting a wall is always a different experience and the space definitely influences the art. Different walls have different textures and dimensions.
The process can vary, but generally, I start with a sketch. I photograph and spec out the wall and do mock-ups on my computer and design the colors to plan everything out. I take days to realize the sketch full scale and transform it into stencils. From there I take it to the streets and do my very best to attack the wall as I intended within my design.
The fun thing about working outside is that the elements are always changing. Always! It's windy, it's cold, it's raining – so many challenges. The unpredictability keeps you having to think quick and problem solve on the spot when things shift. I have to plug Timberland boots here because I genuinely enjoy wearing them when I install my art. They can take the weather and intense work, yet still look cool doing it.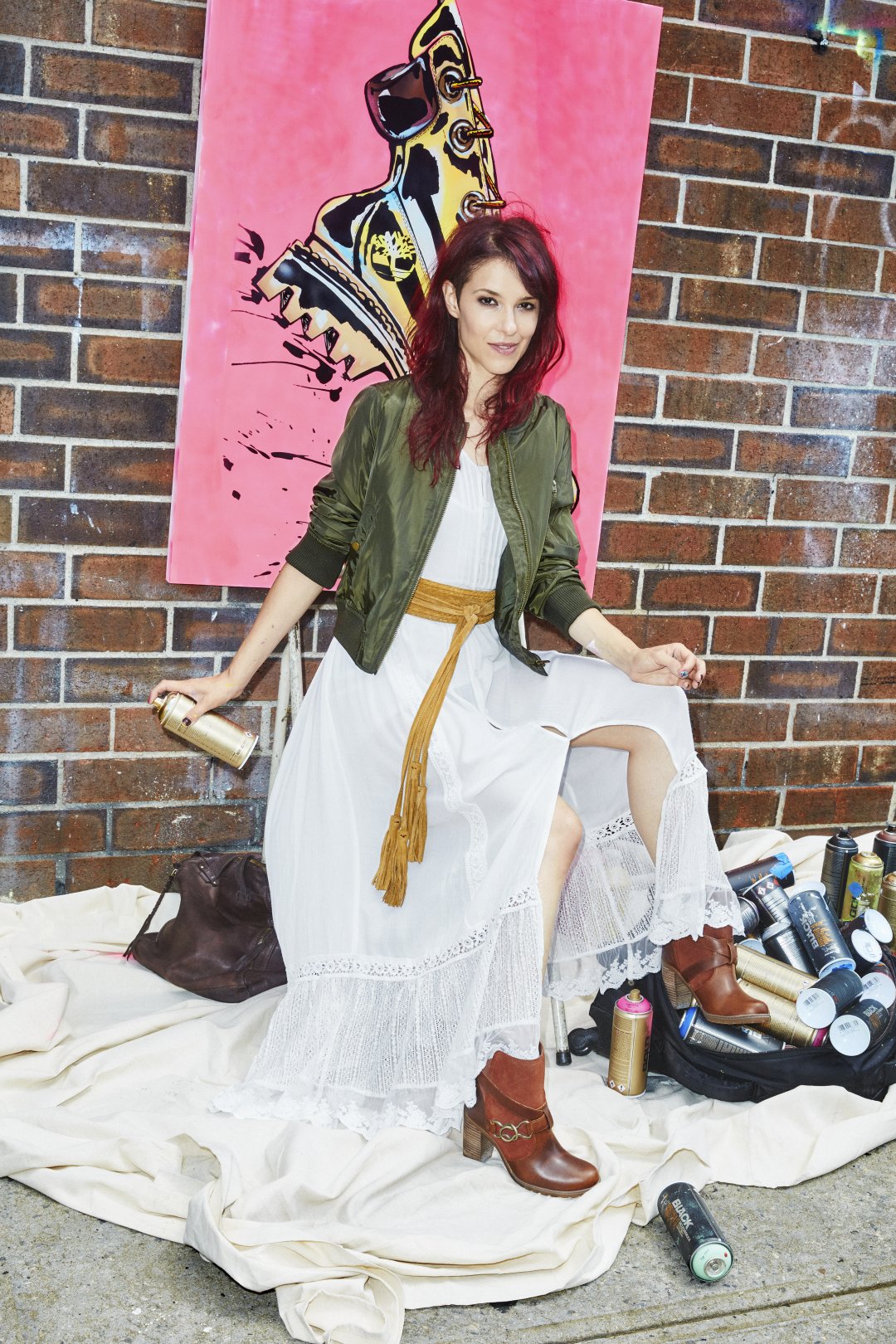 When seeking inspiration for your work, do you look towards street art or footwear?
I look to both. Other artists inspire me, and I love seeing the scale of work. I really admire artists that can work the size of a building. I want that. I'm also inspired by footwear. I'm obsessed with shoes ­– they are tiny sculptures. What impresses me the most is when a brand can execute something so simple, and make that feel emotional. I love shoes and boots with character. I'm always in love with quality and craftsmanship. I melt over it. I bring all of this into my work and the ideas behind them.
What's your personal style?
I want to say Alison Mosshart of The Kills (OBSESSED) meets saint Laurent, but I don't think my wardrobe is that awesome just yet. Most of my clothes are covered in paint at this point. I can't help but have a tomboy feel because I'm usually in my studio working and it's messy. I also am grungy and love ripped pants and fishnets.
What can we expect next from you?
I have a busy fall lined up and plan to hit more walls. I'm super excited about the upcoming billboards I am doing for the Timberland x Marie Claire collaboration. It's so exciting that Timberland is using my artwork in the street and in the stores – I can't wait. It was truly a fun project because the product Timberland has to offer is versatile, classic and cool. I loved illustrating the shoes and I'm excited to share it with everyone.
I will be installing street art near Herald Square in October for this project, too. To be able to show art in mid-town is a rare and unique opportunity. We also have an event in November at the Timberland store to celebrate our collaboration where I will be showing some new paintings for this as well.
At the beginning of December, I have a gallery show in the LES with my best buddy and art partner, Flood. The next couple of months are going to be action packed.